Admaflex 130
ceramic & metal 3D printer
Overview
Admaflex 130
Featuring the unique capability of 3D printing both advanced ceramics and metals on one system. This technology is ideal for the development and production of functional and aesthetical parts requiring complex geometries, high resolution, fine details, and smooth surface while benefiting from excellent material properties.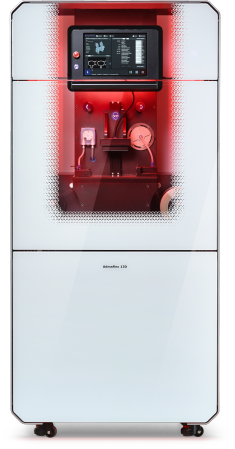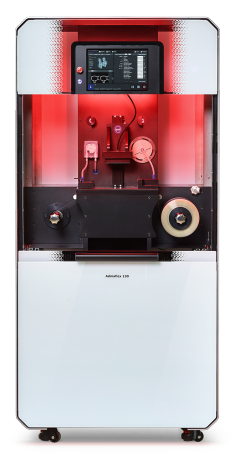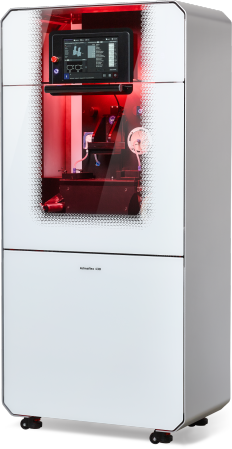 Feature
Patented feedstock system
The Admaflex 130 is designed to effectively handle materials with high viscosity, normally associated with ceramic slurries, enabling high reliability and printing speeds. This innovative system also enables efficient feedstock management by reusing the excess material. Our feedstock system is patented with US patent number 11,141,909. A very small amount of slurry is sufficient to start printing, which makes the system ideal for research and 3D printing of precious materials.
Benefits
A safe and clean workplace, virtually no material waste
High throughput and productivity due to high reliability and high printing speed
Easy material switch within a few minutes, without cross contamination
Working with a broad viscosity range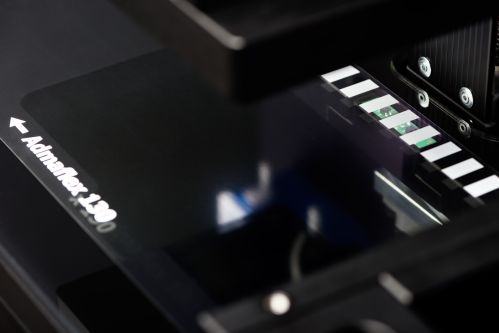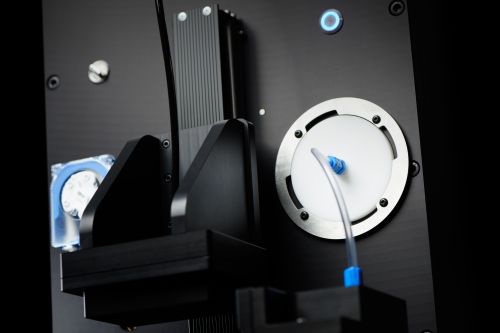 Feature
Modular concept
The Admaflex 130 printer has been designed with a modular concept, to accommodate all future developments. You can choose the resolution and building volume that meet your needs. The machine is already prepared for upgrade with the add on for Metal printing and additional features of the Vision based In-Process Monitoring.
Benefits
Custom to your needs and budget
Access to future upgrades, including Metal printing and Vision based Monitoring
Best value for money
Feature
Open platform
The Admaflex 130 is an open system that comes as standard with a complete software which provides full control of the printing process. The Admaflex user interface allows you to slice the part, add support structures if needed, apply offsets, customize and optimize parameters before and during the printing process. Printjobs with settings can be prepared and stored on a centralized data server and sent to the printer via the standard Ethernet connection. For traceability of the printing process, logfiles are stored automatically. The machine opens up the opportunity to use commercial available materials and the flexibility to develop own materials. A unique standard software feature is the "multi-part printing", that enables you to control light exposure settings for each individual layer and for each individual part, speeding up your development.
Benefits
Unlimited research and development freedom, open to the use all materials
Easy file preparation within the Admaflex user interface (no need for an external PC with slicing software license)
Full Access to all advanced process parameters, including Tuning them during the printjob (at no additional cost)
Increased efficiency with "multi-part printing" at no additional cost
Twice per year you receive the latest software including all new features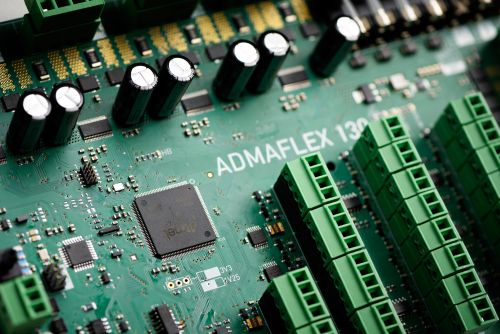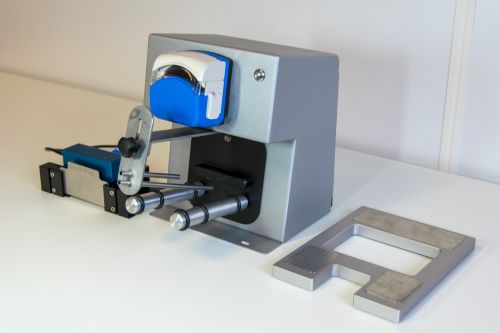 Feature
Add on for metal printing
The Admaflex 130 3D printer can be upgraded with a patented feedstock system for printing metals and other heavy powders. The add on for metal printing overcomes the sedimentation problem of higher density materials. This puts the Admaflex 130 as the world's first stereo lithography based 3D printer to print metals.
Benefits
Ceramic and metal printing on one single machine
Delivering metal products with full density and no residual stresses
Providing aesthetical and precious metal products with high resolution
Feature
In-process monitoring system
The vision-based in-process quality monitoring system is an excellent feature for full traceability of the printing process. All relevant production data are stored in logfiles with documented proof of the printing process. Real-time video capture and time-lapse recording are standard features of the monitoring system. It allows the user for example to partially stop adding layers to a defected product to allow the successful finalization of all remaining parts. When the Admaflex machine is connected via Ethernet to your company network, via any laptop or desktop PC, you can have remote access to the machine and monitor the process realtime.
Benefits
Realtime process monitoring for full traceability
Enhanced usability with remote live video transmission with remote pause function
Receive warnings and pause the print automatically when a problem is detected
Increased throughput and efficiency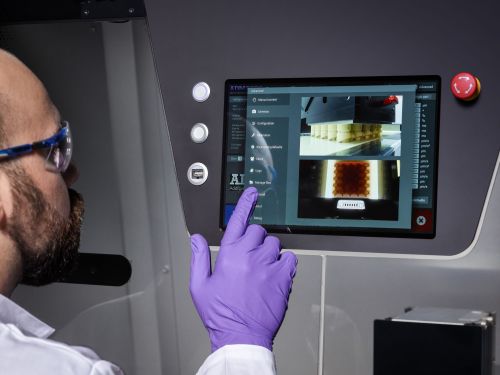 Admaflex 130 technical specifications
Technology

Digital Light Processing (DLP),
also known as Vat Photo Polymerization (VPP),
or stereo Lithography based Ceramic Manufacturing (LCM)
and stereo Lithography based Metal Manufacturing (LMM)

Printing build volume (X,Y,Z)
with full HD light engine
(1920 x 1080 pixels )

96 x 54 x 400 mm | 3.78 x 2.13 x 4.33 inch (50 μm)



Printing build volume (X,Y,Z)
with WQXGA light engine
(2560 x 1600 pixels )

90 x 56 x 400 mm | 3.54 x 2.20 x 15.7 inch (35 μm)
102 x 64 x 400 mm | 4.01 x 2.51 x 15.7 inch (40 μm)
128 x 80 x 400 mm | 5.03 x 3.14 x 15.7 inch (50 μm)
160 x 100 x 400 mm | 6.30 x 3.94 x 15.7 inch (62.5 μm)
*Customer-specific build volumes and resolutions possible

Layer thickness

10 - 200 µm, depending on material type

Build speed (layers/h)

Up to 300 layers per hour

Build speed (mm/h)

Up to 60 mm/h, depending on material type

Wall thickness

0.1 - 10 mm in alumina

Machine dimension (WxDxH)

980 x 670 x 1880 mm | 24.9 x 17.0 x 47.8 inch

Weight

ca. 300 kg | 660 lbs

Required working temperature

22 +/- 2°C

Required working humidity

< 40%

Connectivity

Ethernet, USB

Power requirements

110 / 230 V

File compatibility

SLC, STL

Final product density

Technical ceramics > 98.5% - 99.8%*
Metals > 96 - 99%*
*depending on sintering curve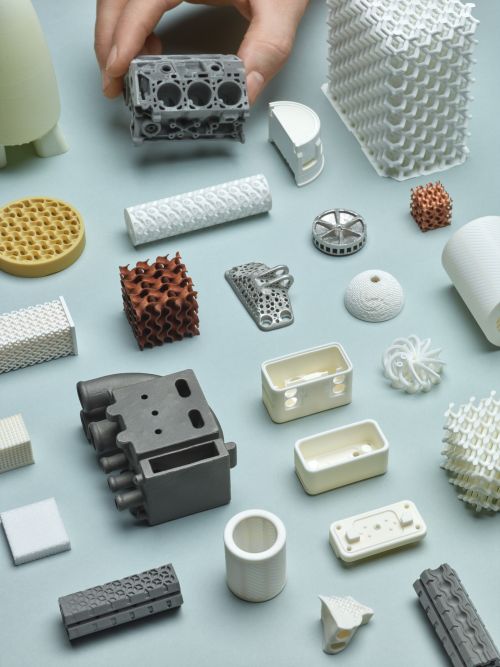 Video
Introducing the Admaflex Technology
Process
From design to manufacturing
of functional parts with form freedom
Admatec supplies solutions for 3D printing, debinding and sintering, and provides training to help customers achieve the best results during each step of the process.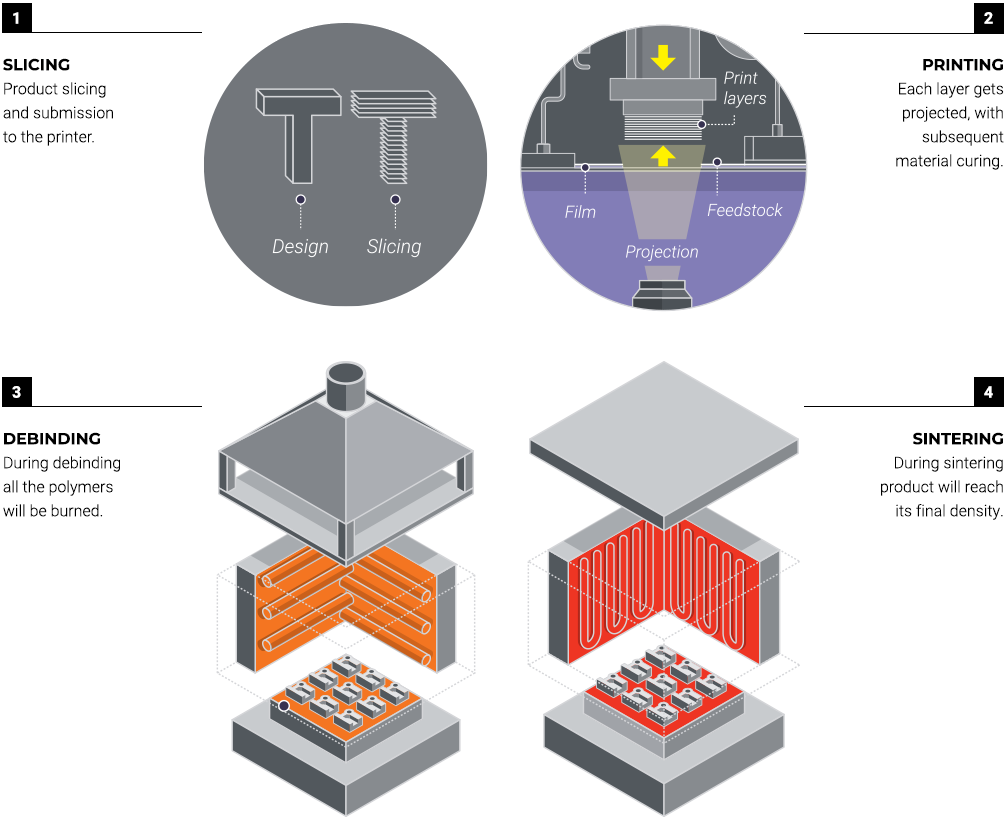 Customer testimonials
"I am convinced that this investment will pave the way for further material innovations and exciting technological developments. Future applications are primarily in functional components in the fields of medical technology, chemical technology and process engineering, electrical engineering and mechanical engineering."
Prof. Dirk Penner
Head of the Ceramic Materials Laboratory of the Swiss IMPE Institute of Materials and Process Engineering at the ZHAW Zurich University of Applied Sciences
"Innovative approach for 3D printing of ceramics, not only for academia but also for the production of small series. It performs well on mid-size series for small parts too. The cost-effectiveness makes the process suitable for more applications, leading to more scale of the process as a whole, which will have a further positive impact on costs."
Alex Hilgenberg
CEO at Hilgenberg-Ceramics GmbH und Co. KG
"The Admatec 3D printer has taken the investment casting prototype manufacturing to the next level. Its simplicity and ease of operation are unmatched compared to traditional pattern 3D printing."
Jack Ziemba
CEO at Aristo-Cast, Inc.
"The MEMTI group already had experience with several commercial available 3D printers using the Digital Light Processing (DLP) technology. To take the next step in ceramic material development and production, the group invested in the Admaflex130 3D printer to develop new ceramic materials for the production of components with complex features."
Prof. Alberto Ortona
Head of the Hybrid Materials Laboratory at Mechanical Engineering and Materials Technology group, Department of Innovative Technologies of Scuola Universitaria Professionale della Svizzera Italiana (SUPSI)
"The parts 3D printed with the Admaflex 130 meet the required fine features needed for our R&D work."
Raymond Wei
Researcher at HKPC
"The Admaflex 130 is world's first class ceramic 3D printer! The operation is easy and practical in use for material testing and performing research."
Li Hongshu Lee
Owner at Shanghai MeiPai Industrial Co., Ltd.
Learn more: