Overview
Changing the industry of the future together
Our goal is to stay on top of the development to remain at the forefront of the market. Therefore we invest in research, targeting continuous material improvement and development of new feedstock for additive manufacturing. In-house R&D enables the development of tailored material with particular characteristics upon customer request. This, applied to the easy, open and adaptable platform of the Admaflex 130 will be a game changer.
Want to explore new ways?
Contact us if you are looking for a partner in ceramic and metal additive manufacturing to challenge the industry of the future with breakthrough solutions and launch your development project today!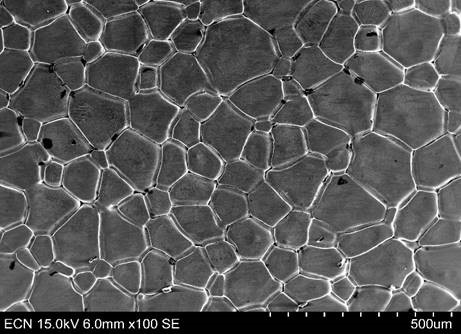 Sintered 316L printed on the Admaflex 130
Why material co-development?
Determine the target
Do you want to develop a material dedicated to a specific application, benefitting from the key aspects that AM has to offer?
If our current materials portfolio not quite meets your needs, let's join forces and determine the right approach in launching a development project together. We have in-house material experts with over 25 years of extensive knowledge of ceramics and metals. With their expertise, they can help you to set up the right process to meet critical requirements.
Keep advancing
In close collaboration, we can take advantage of combined knowledge and experience to find the right fit for the project.
We will help you from powder selection to slurry making, but also with print- and post-processing, and final characterization of microstructure analysis, surface analysis, and mechanical characterization. We are fully dedicated to finding the solution to your specific demand.
Co-create for performance
Once the targets are defined and the steps are decided, we support you with the print process, taking advantage of the openness of our open system.
The tailormade material can be implemented into our SLA-based Additive Manufacturing technology that is accessible and provides many opportunities for your special process demands.
Video
The cerAMfacturing project