Overview
Admatec training
Additive Manufacturing, more commonly known as 3D printing, is multivariate and can be quite complex. It is revolutionizing the current, traditional industry by embracing new technologies to accelerate innovation and changing the way products are made. To bridge the skill gap, it is necessary to acquire some technical competences to take full advantage of the many operational benefits 3D printing can provide to you. That is why we are offering a customer training program to support the adoption of 3D printing with the Admaflex 130 in your business. With three different levels of training, we do our best to suit your needs. You can sign up for specific training, and get all the keys to achieving success in your project(s).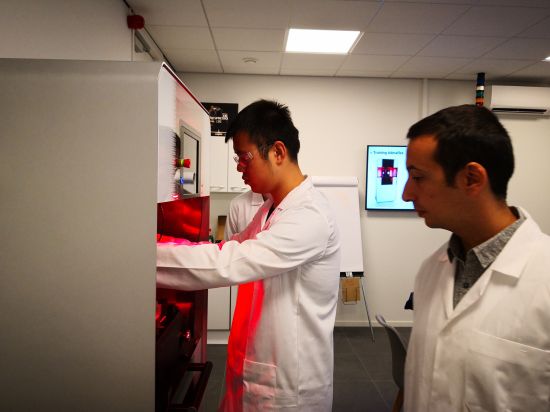 Training options
Basic
WHO IS IT FOR?
This training is open to businesses and institutes that are exploring the possibilities of ceramic and metal 3D printing and are eager to learn the basic principles and the advantages of it.
WHAT'S IN IT?
Key take away of this 1-day program is that you have learned what solution 3D printing ceramics/metals can offer you, and to understand the basic principles of the Admaflex 130/300.
WHY ATTEND?
If you want to learn the basics of the Admaflex technology for 3D printing ceramic in an accurate way through a short course, this is the right option for you.
It is nice to have some general knowledge about 3D printing beforehand.
Intermediate
WHO IS IT FOR?
Are you a new and proud owner of an Admaflex 130/300? This training is dedicated to companies that newly bought a 3D printer.
WHAT'S IN IT?
You will learn everything about the 3D printer functionalities, software possibilities, and material choices. Also, the maintenance of your 3D printer is part of the training. After a theoretical part, you will have the opportunity to apply your newly gained knowledge to practice in the hands-on part of this 2-day course.
WHY ATTEND?
If you have an Admaflex 130/300 and you are in need of a dedicated product training, this is the workshop for you!
Please note that design for 3D printing is not a part of this course
Advanced
WHO IS IT FOR?
Are you looking for specific progress in your daily use of the Admaflex 130/300? If you want to further develop 3D printing ceramics and/or metals, this is your opportunity to get more advanced training for specific applications, materials and printer options.
WHAT'S IN IT?
We will offer you a customized training course of 1 or 2 days, fully tailored to your request. You will receive in-depth material and/or 3D printing practice to support you in finding the right solution(s).
WHY ATTEND?
If you want to take your expertise in the Admaflex system to the next level, this is your best training option.
Please note that design for 3D printing is not a part of this course
Customer testimonials
"The whole training schedule was very well arranged, with a good combination of theory and practice. We've learned a lot and we appreciated Admatec's hospitality. We look forward to putting into practice our learnings to produce excellent biomedical products with the Admaflex 130."
Changchun Zhou
Professor at Sichuan University
"The information gathered will be very helpful for our research and the optimal use of the Admaflex 130 system. We really appreciated the hospitality. It was a great experience overall! The Netherlands is a wonderful country."
R&D Scientist
Working as a defense contractor in USA
"The use of the printer is subjective to the operator; it can be adjusted to your needs!"
Jack Daniels
Tooling Specialist at Aristo-Cast, Inc.