Admaflex 130 Entry
ceramic 3D printer
Overview
Admaflex 130 Entry
Our entry-level machine for 3D printing of advanced ceramics. Admaflex technology is ideal for the development and 24/7 digital serial production of functional and aesthetical parts requiring complex geometries, high resolution, fine details, and smooth surface while benefiting from excellent material properties. The Admaflex 130 Entry is fully upgradable to the Admaflex 130 Evolution.
Admaflex 130 Entry technical specifications
Technology

Digital Light Processing (DLP),
also known as Vat Photo Polymerization (VPP),
or stereo Lithography based Ceramic Manufacturing (LCM)

Printing build volume (X,Y,Z)

102 x 64 x 400 mm | 4.01 x 2.51 x 15.7 inch (40 μm)

Layer thickness

10 - 200 µm, depending on material type

Build speed (layers/h)

Up to 300 layers per hour

Build speed (mm/h)

Up to 60 mm/h, depending on material type

Wall thickness

0.1 - 10 mm in Al2O3

Build platform fixture

Zero-point clamping system

Machine dimension (WxDxH)

980 x 670 x 1880 mm | 38.5 x 26.37 x 74 inches

Weight

ca. 300 kg | 660 lbs

Required working temperature

22 +/- 5°C

Required working humidity

< 40% (in standard configuration)

Connectivity

Ethernet, USB

Power requirements

110 / 230 V 6 A

File compatibility

SLC, STL

Final product density

Technical ceramics > 98.5% - 99.9%*
*depending on sintering curve
Specifications per October 2022 – subject to change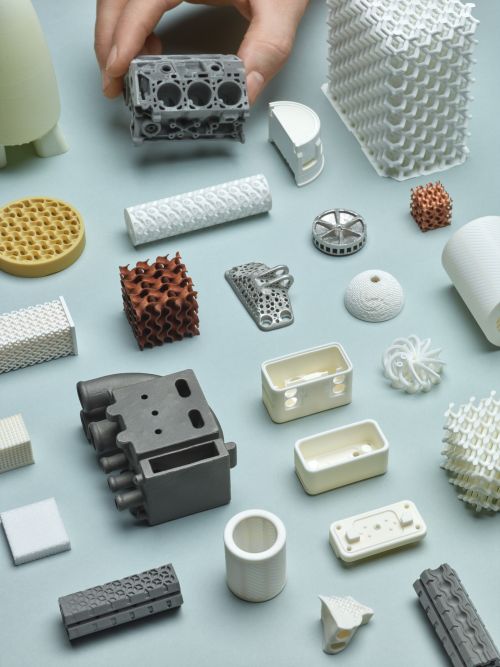 Video
Introducing the Admaflex Technology
Process
From design to manufacturing
of functional parts with form freedom
Admatec supplies solutions for 3D printing, debinding and sintering, and provides training to help customers achieve the best results during each step of the process.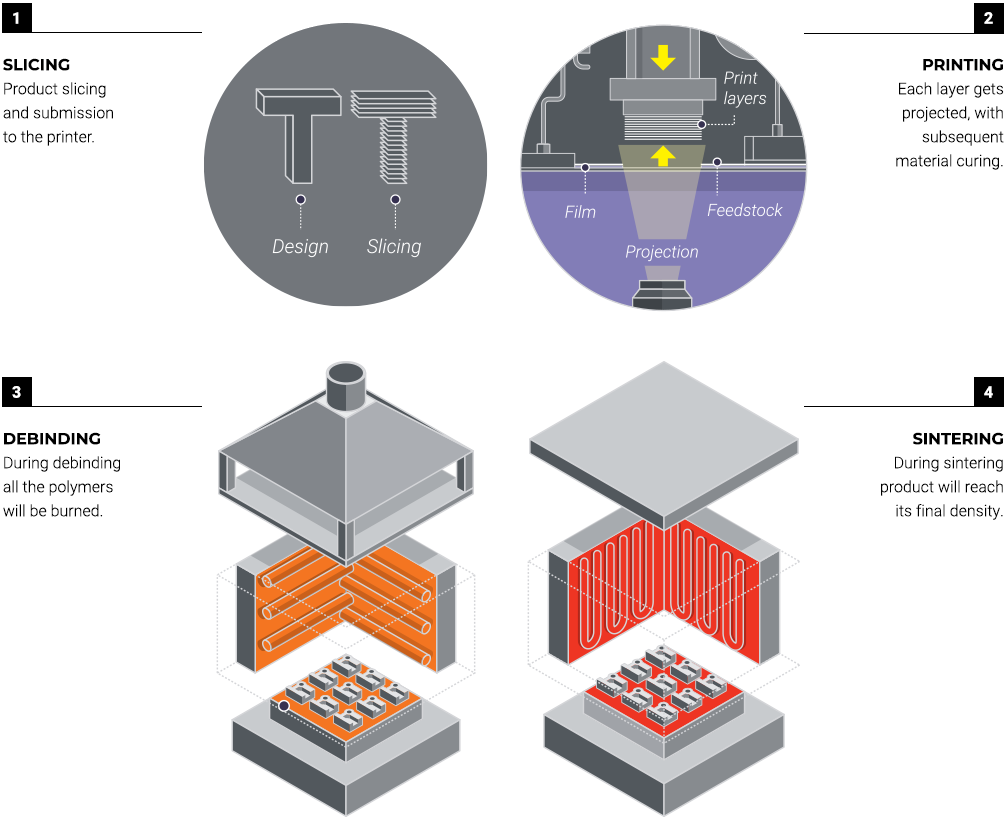 Customer testimonials
"I am convinced that this investment will pave the way for further material innovations and exciting technological developments. Future applications are primarily in functional components in the fields of medical technology, chemical technology and process engineering, electrical engineering and mechanical engineering."
Prof. Dirk Penner
Head of the Ceramic Materials Laboratory of the Swiss IMPE Institute of Materials and Process Engineering at the ZHAW Zurich University of Applied Sciences
"Innovative approach for 3D printing of ceramics, not only for academia but also for the production of small series. It performs well on mid-size series for small parts too. The cost-effectiveness makes the process suitable for more applications, leading to more scale of the process as a whole, which will have a further positive impact on costs."
Alex Hilgenberg
CEO at Hilgenberg-Ceramics GmbH und Co. KG
"The Admatec 3D printer has taken the investment casting prototype manufacturing to the next level. Its simplicity and ease of operation are unmatched compared to traditional pattern 3D printing."
Jack Ziemba
CEO at Aristo-Cast, Inc.
"The MEMTI group already had experience with several commercial available 3D printers using the Digital Light Processing (DLP) technology. To take the next step in ceramic material development and production, the group invested in the Admaflex130 3D printer to develop new ceramic materials for the production of components with complex features."
Prof. Alberto Ortona
Head of the Hybrid Materials Laboratory at Mechanical Engineering and Materials Technology group, Department of Innovative Technologies of Scuola Universitaria Professionale della Svizzera Italiana (SUPSI)
"The parts 3D printed with the Admaflex 130 meet the required fine features needed for our R&D work."
Raymond Wei
Researcher at HKPC
"The Admaflex 130 is world's first class ceramic 3D printer! The operation is easy and practical in use for material testing and performing research."
Li Hongshu Lee
Owner at Shanghai MeiPai Industrial Co., Ltd.
Learn more: