Admatec news
Stay up to date with Admatec news, customer spotlights, and tips on how to leverage 3D printing of ceramics and metals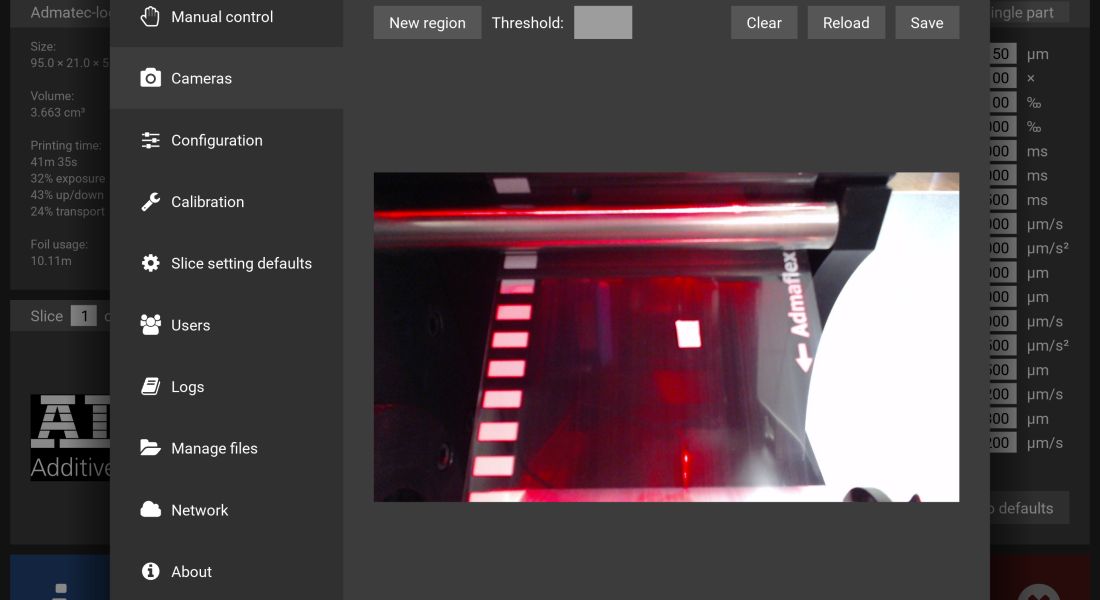 Press release
September 2, 2019
Admatec introduces vision-based process monitoring to their ceramic & metal 3D printers
Upgrading the Admaflex Technology for full traceability and documentation of the 3D printing process
ADMATEC is happy to announce the world's first process monitoring system for Advanced ceramic and metal AM. The launch of this new feature offers full documentation and traceability of the production process and it was specifically designed for high demanding industries requiring high productivity and full traceability of the production process like the aerospace, biomedical and aesthetic sector.
The vision-based system adds even more user control to the modular 3D printer for metal and ceramics through layer detection, foil movement and time-lapse videos of the print. The Admaflex's patented feedstock system allowed the successful development and fast adoption of the process monitoring system, as through the Admaflex foil you can see exactly what is happening during the print process, and record it, layer by layer. For example, if a build platform would print 180 products with just one failing during the process, the monitoring system will detect this and proceed with the other 179 parts to finalize successfully. Whereas with a more traditional approach like VAT this would mean the full run has instantly failed.
"Our customers are now able to trace back each step of the print with additional log files that work as proof of the AM process particularly needed for biomedical and aerospace applications." – Jaco Saurwalt COO at Admatec.
In fact, since the commercial launch of the Admaflex 130 in 2016, many 3D printers have been installed worldwide. This provided very valuable customer feedback, leading Admatec's development to facilitate them even better. One of the results is the launch of this vision-based process monitoring system.
Jaco Saurwalt COO at Admatec says – "We are constantly working to improve, not only with new hardware and material development but also in functionality and productivity. Through software updates that aim at benefiting our existing customer base while improving the efficiency of the technology."
"We are witnessing a gradual change in ceramic AM, from being used mostly as a research and development tool to an actual production method, especially for investment casting and aesthetic applications."— says Nadia Yaakoubi, business developer at Admatec.
That is why Admatec is increasingly becoming known for its 'customized approach'. Customers can choose their desired options, tailoring the 3D printer in a way with features that are the most beneficial to them, no matter whether it's for R&D or production purposes. From customized build platform size that goes up to 160(x) x 100(y) x 400(z) mm to pixel size of projector to determine the printing quality desired, speed that goes up to 300 layers per hour and they are even providing an add-on to print metal on the same 3d printer. The vision system is to add to these options for the current Admaflex 130, but the new to-launch printer in the pipeline will be equipped with it as a standard since the advantages are evident.
For design and simplifying manufacturing of complex and costly parts requiring high detail and high-performance materials, ceramic and metal AM could revolutionize various industries. With its huge potential to reducing cost and increasing the flexibility to upscale production. Ceramic and metal 3D printing will change the industry of the future for sure and Admatec is excited to be part of it.