Precision investment casting
3D printing for precision Investment Casting
The traditional metal investment casting industry employs wax injection molding to obtain molds for core and shell parts. The mold is dipped in different silica suspensions, then dried and finally de-waxed. Innovative sections of the industry print wax and polymer patterns to end up following similar steps, since they still need dipping and de-waxing.
Additive manufacturing technologies are currently rapidly evolving and their applicability to investment casting grows with it. The most innovative projects can benefit from printing silica shells and cores thanks to the know-how developed by Admatec. A mixture of photopolymer resin and silica powder is printed directly into the mold shape.
With an intermediate step of polymer burn-out, the molds can directly be used to obtain small-to-medium highly accurate metal parts. The use of light curing and the in-house developed low-shrinkage material allows the production of precise and smooth surface metal parts. As the printing envelopes increase, the applicability also grows while keeping the same accuracy.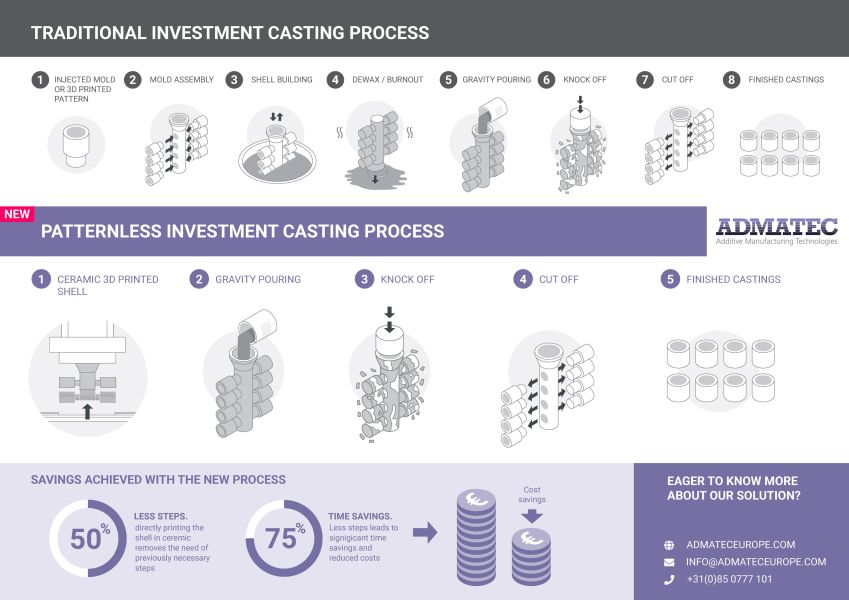 Aristo Cast 3D printed ceramic shells
An example case study is the project in cooperation with Aristo Cast; an award-winning investment casting company established in 1998. They have profound knowledge of producing 3D printed wax patterns and are a recognized leader in applying AM technology to the investment casting process.
Aristo Cast developed an approach to revolutionize the traditional investment casting process, using the Admaflex 130 ceramic 3D printer. The reason for this is that the conventional process is very labor-intensive and time-consuming due to the dipping process. In total, a shell needs eight coats before it is ready for casting, where the first coat is the most important as it determines the quality of fine features and surface finish that can be achieved with the end product. However, this cannot easily be determined due to the inability of verification early on in the process.
This problem was solved through 3D printing with the Admaflex 130, eliminating five steps of the lengthy traditional process. Additionally, there is no need for producing expensive injection molds or 3D printed patterns anymore as the shells can be printed directly. A substantial benefit is that the issue of coats drying in-between is resolved as it is not needed anymore, reducing production time up to 75%.
For Aristo Cast, 3D printing took investment casting to the next level thanks to its simplicity and ease of operation which are unmatched compared to the traditional method. With the Admaflex 130 Aristo Cast is enabled to print intrinsic geometries with high accuracy and extremely thin wall thickness while saving cost up to 50% (depending on complexity). In close cooperation with Aristo Cast, Admatec developed a silica-based ceramic slurry dedicated to the investment casting industry.